#WorldKidLitMonth is now over, and what a month it has been celebrating a spotlight on #DutchKidLit. It is the perfect lead-in to the biggest annual celebration of #DutchKidLit yet!
Every October in the Netherlands the Foundation CPNB (Collectieve Propaganda van het Nederlandse Boek) sponsors a Children's Book Week (Kinderboekenweek). During Children's Book Week, Dutch children ages 2 – 10 participate in a wide range of literacy lessons and multi-media activities, including a special Children's Book Week music video with bonus clips that include a singing lesson and a book week dance moves tutorial, lists of Dutch language books selected for them by interest level, and a special edition picture book that is written, illustrated, and made available at a very affordable price for children and families across the country.
This year's theme is "Worden wat je wil" or "Be what you want to be," and the 67th annual celebration from 6 – 17 October this year has a focus on children exploring careers and hobbies through reading. Local bookstores, libraries, and Dutch literary foundations are all taking part. There is a Children's Book Week newspaper published by Dutch bookstore chain Paagman full of reading ideas, an events calendar, and interviews with not only Dutch authors, but also a children's interview with B.B. Alston, American author of the spell-binding Amari and the Night Brothers series (Amari en de Nachtwachters). The Children's Book Week free gift book is by renowned Dutch author Bette Westera Tiril en de toverdrank or Tiril and the Magic Potion and illustrated by Pyhai for children 8 and up, and the special edition picture book by Mark Janssen, Dromer or Dreamer for ages 4 and up.
It is also encouraging to see children of multiple races and genders represented in the video productions and media tie-ins:
The Dutch truly go all out every October for #DutchKidLit, and it has been so much fun to witness this outreach every year and learn more about Dutch literature organizations, publishers, authors, and illustrators for children in particular through this lens. What makes October 2021 special is that this fall our Library Team at the International School of Amsterdam is collaborating with our Dutch Language teacher and Physical Education colleagues to celebrate Children's Book Week as an international school community for the first time.
My colleague Helle Kirstein and I were invited to join our Lower School Languages Coordinator Eveline Hofland at a kick-off event for Children's Book Week on 14 September held at a local bookstore Libris Venstra which shares the building with the public library in Amstelveen. Hosted by bookseller Ada Ruiter, Dutch public school teachers, headmasters, reading coordinators and directors are invited each year to attend this showcase of publishers, authors, and books selected for the Children's Book Week theme. Guest speakers this year included Marita Dibrani from Gottmer Publishers, Niels Nijborg from Unieboek Spectrum, and Marjolein van der Aar from Amstelland Library who presented booktalks for selected books and also provided suggestions for how to use these books in Dutch primary school classrooms.
Gottmer Publishers brought author Hansa Elbaamrani to the event to share some of the inspiration behind her debut picture book Duizend-en-één paarse djellaba's, or A Thousand and One Purple Djellabas, co-authored with Lisa Boersen and illustrated by Annelies Vandenbosch: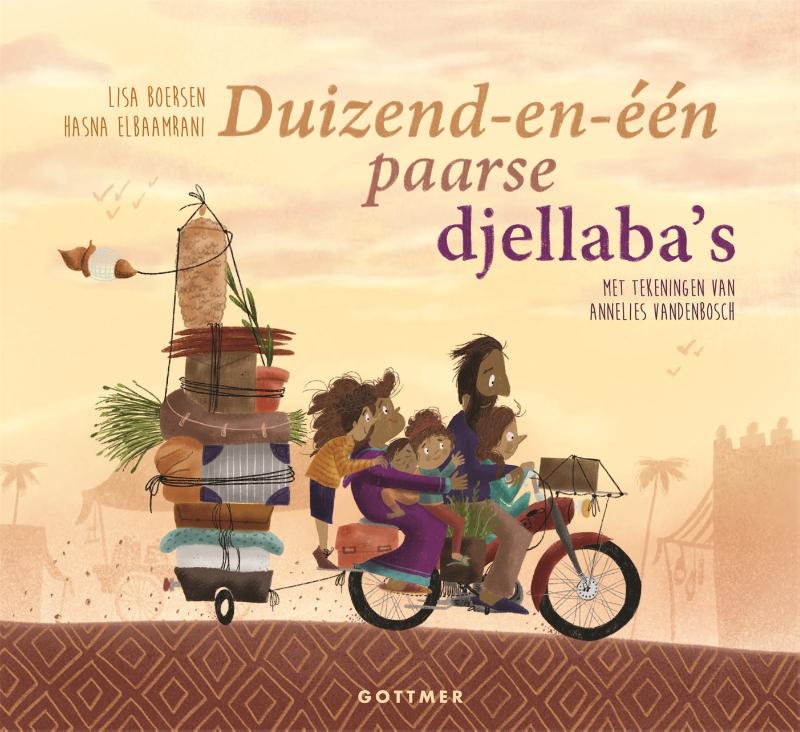 On holiday with family abroad! Peanut butter and chocolate spread go along, saffron and orange blossom oil go back. This summer, Esmaa is going on a trip with her parents, brothers and sister, to family who live in Morocco. All beautiful things and tasty herbs are returned. They get that stuff on the market. But the market is so busy! She loses her mother among all the women with purple djellabas. She meets a fortune teller, an Aquarius, acrobats and a monkey. They help Esmaa and her mother find each other again. The many summers that Lisa Boersen and Hasna Elbaamrani spent with family abroad were the inspiration for this enchanting picture book. Annelies Vandenbosch brought it to life with her sparkling illustrations.

— Gottmer Publishers
It was wonderful to meet author Elbaamrani, talk briefly about increasing representation and diversity in Dutch children's literature and publishing, and get our copies signed downstairs in the bookstore after her presentation. We are hoping to invite her to the International School of Amsterdam for an author visit. via the Dutch organization de Schrijverscentrale which, "advises and mediates on author visits in the Netherlands. We use all our expertise for inspiring meetings between writers and readers."
On our way home that night, we were excited to see a display for Lampie and the Children of the Sea author Annet Schaap's new book that is getting a lot of attention, De Meisjes: Seven Sprookjes, or The Girls, Seven Tales. Another Translate This! book to look forward to.
Schaap's collection of stories are retold fairytales by the Brothers Grimm and Perrault where girls take the lead. The famously abandoned Gretel has a sister instead of a brother, and Sleeping Beauty also gains a sister to expand and revise the traditional tales. Dutch newspaper Het Parool writes in their review, "Nothing remains of the template-like fairytale characters, Sheep's characters are lifelike people."
As we all left the event, Helle, Eveline, and I were presented with a goodie bag full of books, including a copy of Mylo Freeman's 2020 Kinderboekenweek picture book Tweeling, book marks and posters, and a gorgeous hardcover copy of Het ABC van Annie MG by Joke Linders, a Dutch book about the life and work of Annie M.G. Schmidt.
Back at ISA, the Lower School Library programs for grades Nursery through Grade 5 (2 – 10 year old students) have created a wonderful slate of events that integrate our international reading, teaching, and learning community into this week of celebration in our host country. The week of #DutchKidLit book events will begin with a kick-off assembly on 11 October where students in grades 2 – 5 will sing and perform the Children's Book Week song and dance after practicing the lyrics and dance moves in their Dutch and Physical Education classes. Librarians have invited Dutch-speaking staff to be guest readers during students' scheduled book exchanges. These readings will be dual language with the guests reading in Dutch and the librarians reading the English translations. Further outreach and engagement will be facilitated by sending classroom teachers curated lists of Dutch books and authors that are available in the library collections, both print and digital, and digital bulletin boards showcasing events, books, authors, and activities.
In this spirit of celebration of #DutchKidLit, I would like to wrap up #DutchKidLit by thanking all my guest contributors. I want to express how much I enjoyed working with my library colleagues from the International School of Amsterdam Helle Kirstein, Nathalie Morrissey and Sabrina Rossi for contributing their wonderful reviews for Toon Tellegen's I Wish, Mylo Freeman's Zaza Series, and Thé Tjong-Khing's Where Is the Cake? respectively. My husband Aaron Tyo-Dickerson, who shared his review for Tonke Dragt's The Letter for the King and is re-reading it in Dutch, shared his admiration for Dragt's body of work and gave me enthusiastic support all month long while I wrote and provided me with constant proofreading and technology guidance. Author Lyn Miller-Lachmann shared with us her insightful article on the history Dutch publisher Em. Querido, and #WorldKidLit Wednesday blogger Nanette McGuinness graciously shared her review of Mister Orange for the Batchelder Books post. And finally, I want to share my huge appreciation for Karen Van Drie who has taught me so much about publishing and editing for the GLLI Blog. I thank her for inviting me and working with me on this project.
Dromer
Written and illustrated by Mark Janssen
Published by CPNB Kinderboekenweek, 2021
ISBN: 9789059659384

Tiril en de Toverdrank
Written by Bette Westera
Illustrated by Pyhai
Published by CPNB Kinderboekenweek, 2021
ISBN: 9789059659285

Ik Will een Wiegje Worden, Zei de Wilg
Written by Bette Westera
Illustrated by Henriette Boerendans
Published by Gottmer, 2021
ISBN: 9789025775315
Duizend-en-één Paarse Djellaba's
Written by Lisa Boersen and Hansa Elbaamrani
Illustrated by Annelies Vandenbosch
Published by Gottmer, 2020
ISBN: 9789025773199

De Meisjes, Seven Sprookjes
Written and illustrated by Annet Schaap
Published by Em. Querido Uitgeverij, 2021
ISBN:

September 2021 #DutchKidLit Articles:

2 September – #WorldKidLitMonth September 2021 – Sportlight #DutchKidLit

3 September – #DutchKidLit and The Canon of the Netherlands, Part 1 – Anne Frank and The Diary of a Young Girl

5 September – #DutchKidLit and The Canon of the Netherlands, Part 2 – The Subversive Wit of Annie M.G. Schmidt

6 September – #DutchKidLit – A Pond Full of Ink: Annie M.G. Schmidt's Most Beautiful Children's Poems by Annie M. G. Schmidt

7 September – #DutchKidLit – Tortot, The Cold Fish Who Lost His World and Found His Heart by Benny Lindelauf

9 September – #DutchKidLit – Winter in Wartime by Jan Terlouw

10 September – #DutchKidLit – Fright Night by Maren Stoffels

11 September – #DutchKidLit Nonfiction – Palm Trees at the North Pole: The Hot Truth about Climate Change by Marc ter Horst

12 September – #DutchKidLit Young Adult Biography – Vincent by Barbara Stok

13 September – #DutchKidLit – The Cat Who Came in off the Roof by Annie M.G. Schmidt

16 September – #DutchKidLit – I Wish by Toon Tellegen, Ill. Ingrid Godon, Translated by David Colmer

17 September – #DutchKidLit – Where Is the Cake? by Thé Tjong-Khing

18 September – #DutchKidLit — If Only… by Mies van Hout

19 September – #DutchKidLit – I'll Keep You Close by Jeska Verstegen and the Story of a Dutch Publisher: Querido

20 September – #DutchKidLit – The Mouse Mansion – Sam and Julia by Karina Schaapman

21 September – #DutchKidLit – Zaza Series by Mylo Freeman

23 September – #DutchKidLit – Princess Arabella Series by Mylo Freeman

24 September – #DutchKidLit – Translate This! We Moeten Allemaal Feminist Zijn by Chimamanda Ngozi Adichie, Adapted and Illustrated by Mylo Freeman

25 September – #DutchKidLit – Historical Fiction and the 2014, 2015 Batchelder Awards

26 September – #DutchKidLit Virtual Field Trip to the "I Am Frog" and "ABC with the Animals and Me" Exhibits at the Children's Book Museum

27 September – #DutchKidLit – The Letter for the King by Tonke Dragt

29 September – #DutchKidLit – The Female Gothic and Lampie and the Children of the Sea by Annet Schaap

30 September – WorldKidLitMonth & #DutchKidLit Wrap-Up – Children's Book Week 2021 "Be what you want to be!"