When Karen Van Drie, the enthusiastic and dedicated Executive Director of Global Literature in Libraries Initiative, invited me to be the guest editor for the GLLI blog during World Kid Lit Month this year and to feature Dutch kid lit all month long, I was happy to do so because it would mean that I could take a deep dive into my current home and host culture's many literary arms: Dutch language and literature promotional agencies and foundations, Dutch literature in translation traditions and initiatives, Dutch authors, illustrators, translators and publishing organizations, international Dutch and expat children's and young adult reading cultures, plus the many local Dutch public and international school libraries that invest in, develop, and promote innovative, exciting Dutch collections for children and young adults all over the world.
The Netherlands is a very small country with a very large cultural reach. The Dutch are famous for windmills, tulips, wooden shoes, Delft pottery, and bicycles, as well as the epic artistic talents of Rembrandt, Vermeer, and Van Gogh. Anne Frank wrote her famous diary Het Achterhuis/Anne Frank: The Diary of a Young Girl while in hiding in the Netherlands and she wrote it in Dutch, not in German as I believed most of my life till moving to the Netherlands in 2006. The Anne Frank House located at 263-267 Prinsengracht in the center of Amsterdam remains a deeply meaningful site for learning about her life and diary, "one of the most read, most important and most inspiring books in the world," welcoming 1.3 million visitors in 2019. It is fascinating to visit the museum and view copies of a selection of the more than 70 translations of The Diary to date.

There are likely many readers who are unfamiliar with the reach of Dutch language and literature. Dutch is spoken in multiple countries and territories as a result of The Netherlands' colonial history. According to the Taalunie – Union for the Dutch Language, "Dutch is an official language in the Netherlands, Belgium, Suriname and also in Aruba, Curaçao and Sint Maarten. About 24 million people speak Dutch as a mother tongue" with significant populations speaking Dutch as a first or second language in Indonesia and in immigrant populations in Canada, the United States, and Australia. Millions of Afrikaans speakers in Central and Southern Africa also share many connections to Dutch language and literature.



I am excited to present today's introductory post outlining the multiple purposes and lenses I have applied to our Dutch kid lit series this September, and to share how the group of brand new blog post authors I have invited to join me in this project have investigated and enjoyed Dutch kid lit over the past weeks of research, reading, and reflection. In particular, I have continued to return to the framing of Dutch kid lit that Karen and I have discussed since the very beginning of this journey, namely investigating the many reports over the years that position Dutch children as the happiest children in the world based on a number of economic and social criteria. Karen and I in our talks together have wondered: To what extent do Dutch kid lit and cultural literary traditions in the Netherlands and in other Dutch-speaking areas of the world impact the happiness of Dutch children? What can or should we learn from the Dutch model? For example, is there evidence that Dutch kid lit contributes to the level of happiness reported in the most recent UNICEF Report Card from 2020: Worlds of Influence: Understanding What Shapes Child Well-being in Rich Countries where the happiness of children is measured and built upon a framework that requires explicit outcomes in children's skills including "reading/mathematics and making friends" alongside "mental wellbeing and physical health?" If reading skills are at the core of child welfare and thereby happiness, are Dutch children and young adults reading enough to keep them happy in coming years?
This is a key question because there is evidence that, although the Netherlands is maintaining their world-leader status in child well-being, Dutch literacy rates are on the decline for young people, and the young people most affected are students in the Netherlands moving into vocational programs after primary school, as well as migrant children. So we need to pause and consider this reality. There is a major disconnect, which I have observed and addressed in my own work in international school libraries, between primary school students' enthusiasm and love of reading and their abrupt transition to secondary school structures where reading for pleasure is not supported in similar ways as reading takes on more nonfiction and content-driven purposes that many students find difficult, and where phones and other devices infiltrate the most well-intentioned families and learning communities, all too often dominating young people's attention, free time, peer relationships, and academic lives. Reading these reports is sobering, and has led me to another large, potentially more important and troubling question as I pore over my stacks of Dutch books in translation: To what extent are Dutch policy makers, librarians, parents, teachers, authors, translators, and publishers addressing these growing deficits in increasingly vulnerable populations in the Netherlands? How is happiness for these Dutch children and young adults being supported and how are deficits in reading skills in particular being addressed?
During my weeks of reading and preparing my notes for this month of blog posts, what I have discovered, alongside some of my worries about the reading lives of children and teens around the world, is the joy of discovering a treasure trove of outstanding books for children and young adults that have been celebrated both in the Netherlands and Flanders, helping me gain an even more appreciative awareness of the vigorous Dutch translation culture both Dutch to English and English to Dutch. These are books that are full of characters and adventures that need to be read and put into the hands of children everywhere! I have mined books lists including "The Best Kids' Books in Translation recommended by Adam Freudenheim" the managing director of Pushkin Press, where unsurprisingly he recommends two Dutch classics, Annie MG Schmidt's The Cat Who Came in Off the Roof and Tonke Dragt's The Letter for the King both published by Pushkin (but he's not wrong!) and learned more about the world of publishing translated literature, and explored with fascination the New Dutch Writing promotional campaign funded by the Dutch Foundation for Literature which seeks to "promote Dutch writing in translation in the UK and Ireland and to nurture the next generation of translators" and features a whimsical canal house illustration by Jan Rothuizen he calls the "Dutch Writers' House":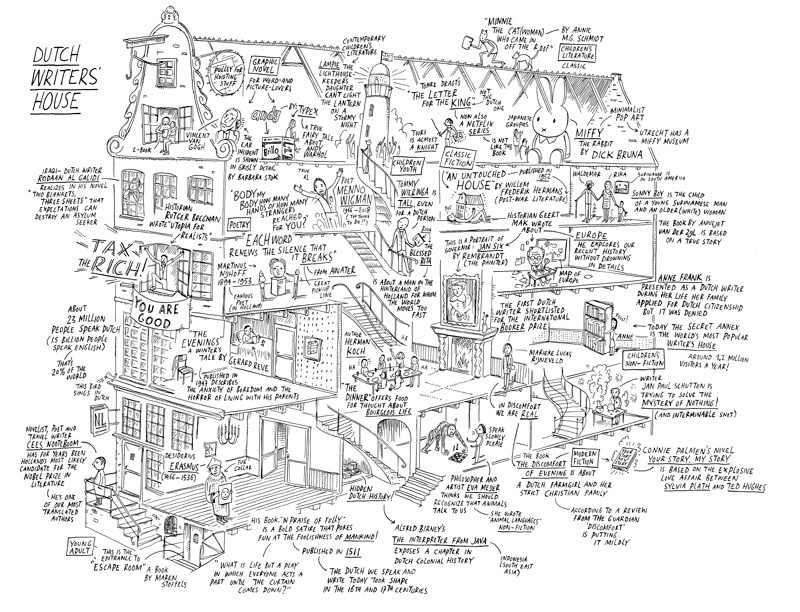 Together, this month we will be visiting this canal house of Dutch authors. We will climb up to the attic realms of classic children's literature, including Annie M.G. Schmidt's books with translations by David Colmer, Tonke Dragt's epic Hero's Quests with translations by Laura Watkinson, and beloved Nijntje/Miffy tales by author/illustrator Dick Bruna. We will uncover the secrets of the darkly beautiful Female Gothic fairytale Lampie and the Children of the Sea by Annet Schaap also translated by Laura Watkinson, and then look for iconic images and moments in the life of Van Gogh in the pop-art style, graphic biography by Barbara Stok also with translations by Laura Watkinson. In the first floor's annex dedicated to the real-world pragmatism of children's nonfiction, we will revisit Anne Frank, the Dutch writer who was never granted Dutch citizenship, taking a closer look at her famous diary in all its incarnations. Down in the basement, or Souterrain as the Dutch call it, we will brave the dark to learn about YA thrillers by author Maren Stoffels…also translated by Laura Watkinson, who is clearly a force for Dutch literature in translation!

I have discovered an impressive array of literary awards, both in the Netherlands and abroad, that Dutch and Flemish authors have won, awards that recognize outstanding books for Dutch language readers and readers who discover Dutch writing in translation, giving momentum to Dutch and Flemish institutions' cultural outreach efforts to ensure the relevance and longevity of their literature. Dutch writing and publishing continues to be award-winning, and thus read, shared, and celebrated around the world. What I am also investigating is whether there is a clearly identifiable, robust body of work in translation being developed and promoted that centers Dutch kid lit stories and characters written by authors and illustrators of color, including postcolonial and new immigrant voices. Influential Dutch author, illustrator, and translator Mylo Freeman, whose Princess Arabella series was inspired by a real-life story where a little Black girl refused to play a princess in a play because she didn't believe princesses could be Black, speaks to the struggles of Black authors writing and illustrating picture book stories with Black characters, echoing the teachings of Rudine Sims Bishop in her powerful piece in The Guardian from 2016, "Black Girls Can Be Princesses too, that's Why I Wrote My Books":
Children are not color-blind. Through diverse picture books children will have an opportunity to learn on an unconscious level to feel empathy and identify with others from a different ethnic background to their own. Children need both mirrors and windows. Many children of color see the world only through windows but they also need mirrors. Other children only see mirrors and they need to see the world through windows.

Mylo Freeman
This is the exciting purpose of #WorldKidLitMonth and our spotlight on #DutchKidLit. During #WorldKidLitMonth this year, I will highlight many authors and titles that may be new to our global GLLI community and some classics that many of us have read and enjoyed over the years but that are central to #DutchKidLit and its zeitgeist in the Netherlands and Flanders, past and present. And I will continue to intentionally investigate the writing, reading, publishing and translating ecosystem here in the Netherlands where evidence of the uniquely Dutch commitment to literacy, libraries, and cultural pride is evolving to include necessary conversations and reckonings surrounding and centered on issues of diversity, equity and inclusion in Dutch and Flemish publishing cultures. My search is ongoing for Dutch writers, illustrators, and publishers who are committed to the representation of all Dutch-speaking people and to the amplification of those voices whenever possible as influential members of Dutch literary communities and traditions. We need to continue to ask questions about who gets published, which stories get translated, how do new #DutchKidLit voices shape the happiness indicators and cultural conversations surrounding what it means to be Dutch and identify with Dutch stories. Ultimately, the question we need to ask, not only in the Netherlands but also in all countries, is this: how do our children and teens see themselves and their worlds reflected, or not, in the literature that is meant to be for them?