Like all good fairytales, Lampie and the Children of the Sea starts with things going horribly wrong for a young, vulnerable heroine. Lampie's name is a nickname that reflects her purpose, as she is in charge of lighting the lamp every night at the lighthouse where she lives with her drunken, lame father. She is the namesake of her dead mother, Emilia, but her father cannot bring himself to use her real name in his inconsolable, raging grief. So, she is Lampie. She hears her dead mother speaking to her sometimes when she is sad or confused. The wind and creatures in the sea also speak to Lampie. All of these uncanny experiences are kept secret, as Lampie has no friends. Abused and forgetful, Lampie does her best to stay out of her father's way and is mostly successful, except for the times when he catches her unawares, like whenever she makes a mistake no matter how large or small, and he lashes out. So when the unthinkable happens and the matches Lampie uses every night to light the lighthouse lamp run out, which means the lamp cannot be lit no matter how desperately it needs to be lit, she realizes that some things will never be the same again.
An approaching storm seals her fate, because of course the storm hits the shore with a vengeance and shatters all hope that her biggest mistake yet, her inability to remember to get more matches, will pass unnoticed. A ship smashes upon the rocks near the dark lighthouse, and here is where Lampie's tale truly begins, a dark fairytale where a motherless little girl, harnessed to a father who is a wreck himself, a tyrannical man who has lost all light in his life and who unfairly, relentlessly punishes Lampie for existing when her mother does not, goes on a unnerving quest into the Female Gothic landscape.
The Female Gothic is a narrative structure developed by women authors that has unique motifs: supernatural events, "a distressed heroine, domestic incarceration, threats of…violence, anxiety about monstrous or absent mothers" as well as "economic disenfranchisement" (Ledoux). Famous literary Female Gothics include Jane Eyre by Charlotte Brontë, Rebecca by Daphne du Maurier The Haunting of Hill House by Shirley Jackson, The Magic Toyshop by Angela Carter, Beloved by Toni Morrison and The Little Stranger by Sarah Waters. Identifiably Female Gothic traditions inhabit dark, unsettling children's stories as well, including The Little Princess and The Secret Garden by Frances Hodgson Burnett, The Wolves of Willoughby Chase by Joan Aiken, Coraline by Neil Gaiman, Serafina and the Black Cloak by Robert Beatty, and The Lie Tree by Frances Hardinge to name a few. The settings in these fictional worlds evoke anxieties about the safety and security of the vulnerable female child characters. There are always large, many-roomed houses where girls find themselves helpless to leave, and they struggle to solve mysteries surrounding the identities of the inhabitants. There are supernatural elements that complicate the heroine's grasp on reality. And there is always the threat of a powerful adult, usually male, lurking just outside ready to disrupt whatever negotiated security the child attempts to find.
Lampie's series of unfortunate events land her in an increasingly dangerous situation. The economic consequences of her failure to light the lamp are swift and brutal. Her father is punished for the shipwreck by the local sheriff and imprisoned in the lighthouse, the doors nailed shut, until he pays back the money the shipowners lost. Lampie is taken away from her home by a former school teacher:
Lampie is then sent out as an indentured servant to the Admiral who owns the Black House, a forbidding mansion where there is rumored to be a monster lurking in a dark tower. In her exile from her father and her incarceration in the Black House with its rules and forbidden rooms, she trades one nightmarish existence for another.
In the realm of the Female Gothic, the un-homing of the heroine is necessary to create the liminal space between the past world the heroine leaves behind and the new world being created through her navigation of Gothic spaces.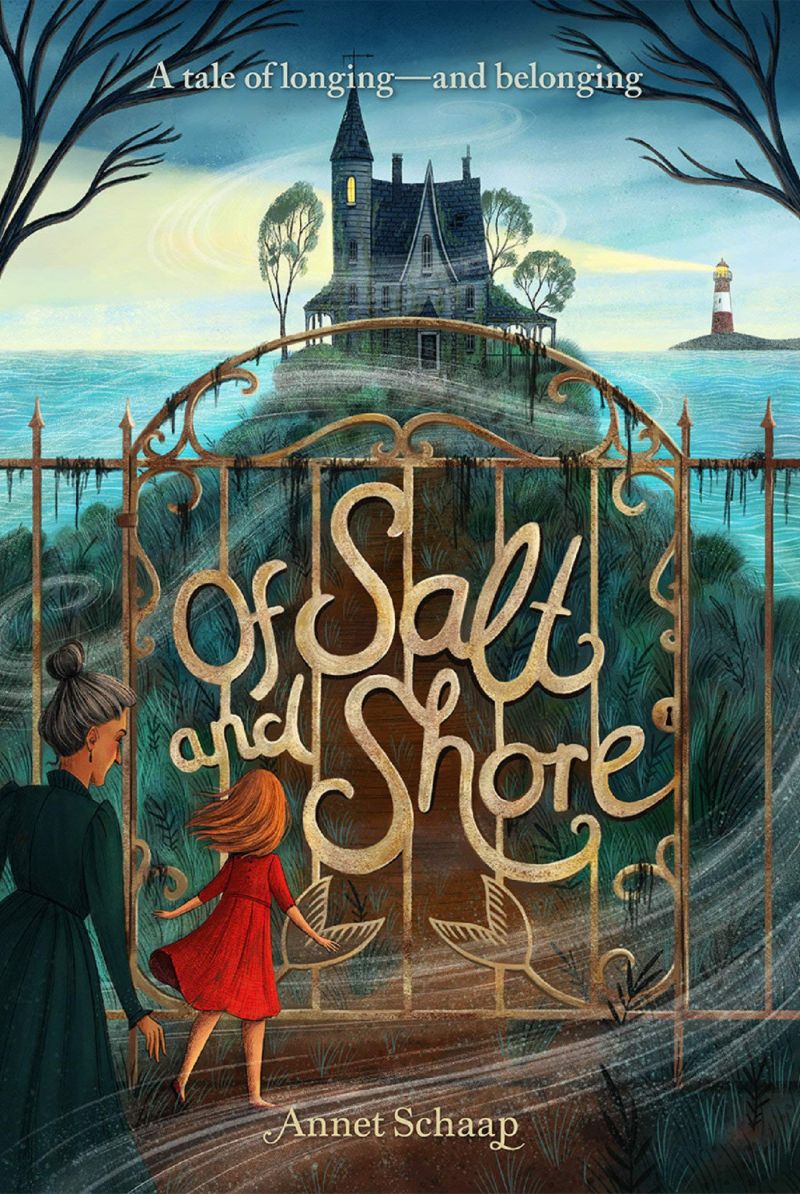 And yet, within the walls of Black House, and as Lampie ventures into the one room she is not allowed to enter, she begins to "find her courage, use her wits, and develop her strength to untangle the mystery and face down whatever is lurking in the shadows." Here Hans Christian Andersen's 1837 fairytale The Little Mermaid becomes part of Lampie's story, and she discovers what happened when the mermaid who fell in love with a human yet could not reconcile the sacrifices she made to give up her mermaid-self for life on land. Schatt offers us a reality check in Lampie, where the little mermaid, whose goal for her life was finding true love with a human man, finds disillusionment with the Admiral and unending suffering for giving up her voice and life for him on his terms. What Schaap also envisions is a world where the gender becomes more fluid, where the call of the sea juxtaposed to life on land become intermixed and navigated by both Lampie and the monster she discovers and frees. Lampie gains agency, an agency that the little mermaid ultimately gave up:
The fairytale elements in Lampie are not Lampie's anxieties producing a false supernatural experience. It is precisely the reality of the supernatural in the story that turns the traditional Female Gothic tropes on their heads. Mermaids, and thus fairytales everywhere, are real, as are their pain and regrets. Perhaps only in children's literature could such a dark story with all the aspects of violence and peril, monsters and mermaids, retribution and, ultimately, redemption be told.
Lampie and the Children of the Sea is a novel for adventurous readers ages 10 and up, and for fans of dark fairytales, The Little Mermaid, and the Female Gothic literary tradition of all ages.

Lampie and the Children of the Sea
Written and illustrated by Annet Schaap
Translated from the original Dutch by Laura Watkinson
Published by Pushkin Children's Books, 2018
ISBN: 978-1-62354-230-6
Originally published by Em. Querido's Uitgeverij, Amsterdam, 2017

You can purchase a copy of Of Salt and Shore, the US Edition of Lampie, here.
Reviews:

"This middle grade jewel about a lighthouse keeper's daughter is by turns as satisfyingly dark and light as the best fairy story adventures." — Julia Hale, chair of the Carnegie Medal

"Schaap's story of family, friendship, and loyalty is humorous, scary, and filled with goodness. The captivating supporting cast of characters—a mix of realistic, fanciful, and stereotypical—makes for a delightful read." — Booklist starred review

"This is a beautifully told (and smoothly translated) story about family, bravery, love, identity, and forgiveness, enhanced with atmosphere-rich crosshatched illustrations. The timeless setting and archetypal characters make the story both intriguing and familiar. An imaginative, heartfelt, and plucky tale, with adventure aplenty (including pirates, it turns out) and admirable young heroes." — Horn Book Magazine
Awards:

Woutertje Pieterse Prijs 2018

Gouden Griffel 2018

Shortlisted for the CILIP Carnegie Medal 2020

Explore:

CILIP Carnegie Shortlist 2020 Shadowing Resources – Reading Resources for Lampie

An Interview with translator Laura Watkinson

Are you new to the Female Gothic tradition in literature? The open access article "Was there ever a 'Female Gothic'?" by Ellen Ledoux, discusses the fascinating range and limits of the genre.
You can read about explorations of the Gothic in children's literature in Twenty-First-Century Children's Gothic: From the Wanderer to Nomadic Subject by Chloé Germaine Buckley via Google Books.

Anne Williams' Art of Darkness: A Poetics of Gothic is the book that helped me contextualize my thinking about the Female Gothic literary tradition during my graduate studies in 17th and 18th Century British Literature at Miami University in Oxford, Ohio.

Read the recent New York Times profile of author Maria Tatar "What About the Heroine's Journey?" where she discusses her new book The Heroine With 1,001 Faces, an answer to Joseph Campbell's influential Hero With a Thousand Faces where he discusses The Hero's Journey and inspired, among others, George Lucas when writing hero characters for Star Wars.
This post may contain affiliate links that earn Global Literature in Libraries Initiative a commission at no extra cost to you.