"This is from your family in Rwanda", Oprah said, handing me a tan envelope. She looked solemn, confident in her purpose. "From your father and your mother and your sisters and your brother".
I opened the envelope and pulled out a sheet of blue paper. Then Oprah put her hand on mine to stop me from unfolding the letter. It was huge relief. I didn't want to have a breakdown on TV.
"You don't have to read it right now, in front of all these people." Oprah said. "You don't have to read it in front of all these people …" She paused. "because…because…your family IS HERE!"
Clemantine Wamariya was 8 when the Rwandan genocide began. Separated from everyone in her family except her older sister Claire, she wandered from refugee camp to refugee camp; across Rwanda, Burundi , South Africa and Zaire; dodging bombs and enduring soul crushing poverty and hunger. Eventually, she, her sister and her sister's children were granted refugee status in the US, where she lived with a white family in one of the wealthiest and most exclusive suburbs in the Chicago area. After a stint in a Christian boarding school, she was accepted at Yale, earning a B.A in comparative literature. And yes, she was reunited with her family live on camera on Oprah, an experience she recounts in the prologue to her memoir The Girl Who Smiled Beads (co-written with Elizabeth Weil).
While Dina Nayeri describes herself as the "ungrateful refugee", Wamariya comments wryly on the role of the performing refugee. Her remarkable sister Claire managed to finagle food, shelter and resources in multiple settings by re-inventing herself as whatever was needed: model, saleswoman, translator, trader, and eventually doting wife and mother. It was Claire's facility with performance which enabled their survival.
Coming to the United States, Clemantine finds herself engaged in performance of a different sort, realizing that her American family and classmates are not only a willing, but a needy audience for her tale of harrowing resilience. The constant demand for this theatre of pain becomes intrusive and dehumanizing:
People wanted to know if anyone in my family had been murdered, and if I had seen people get killed. I could not believe their sense of entitlement. These people did not have the right to my pain. They did not even realize that they wanted it, that they saw my life as a movie. Their questions felt prurient, violating, evidence of their inability to see me as fully human.
Yet like her sister, Clemantine quickly realizes that she can manipulate her story and her identity as needed:
"My refugee skills were kicking in. I wanted to be who I needed to be and get what there was to get….If I performed well in my role as a student, people responded with happiness and pride and wanted to pour more resources into me. Fill me up again and again."
Clemantine's trauma fills a need for privileged Americans; it assures them of their goodness and compassion, and that the world is fundamentally just. When Clemantine slips up and fails to react to 9/11 with appropriate horror and surprise, her American "mother" is shocked: "these were not the words of the nice poor African refugee girl she'd invited to live in her house."
So Clemantine becomes letter perfect in her role, and is eventually given the role of a lifetime on live television: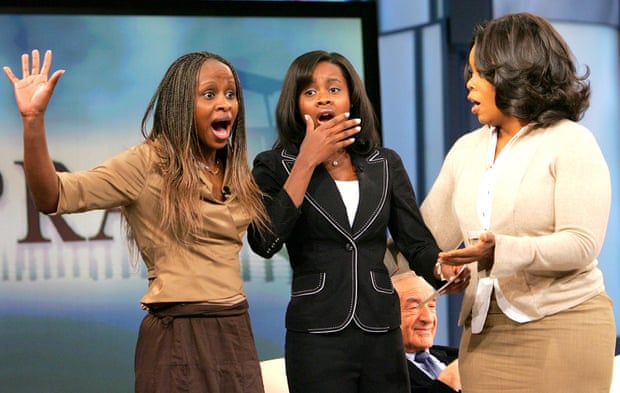 I know I have been given a chore: Please assume this identity: Oprah's special genocide survivor, long lost daughter made good. In that narrative, that brilliant fairy tale, I was the clever child who induced the fairy godmother to bring her parents back to life. I was to fill that slot on the show and in viewers' minds. The title "The Oprah girl: came with a dramatic story line, a happy ending and a glamorous costume.
Becoming "Oprah's girl" is a ticket to social acceptance, citizenship, and eventually admission to Yale, even as it threatens to subsume her identity into that of someone else ("My girl… my girl" Oprah says, patting her hand).
Clemantine's strength resides in holding on to her true identity, never giving up her name or her sense of self-worth and truth. She shocks her prep school and college classmates by challenging their assumptions, their hypocrisy and their facile understanding of genocide; she refuses to let privileged Black students at Yale deny the misogynistic aspects of African culture. And yet…
…still I posed for photos. I let people take my hands in theirs. They thanked me for sharing my story. my sad, harrowing inspiring story. I smiled. I always smiled but underneath I also said to myself, You have no idea. I shared one second of my life with you. I'm not the poor little kid you think I am.
From Claire she learned that how you present yourself, how you make others see you has power, and can be the difference between life and death. Years after their ordeal, Claire puzzles her family by spending money she can scarcely afford to be photographed in a glamorous dress, but Clemantine understands. She remembers scraping together everything they had to turn her baby niece and nephew out in style as they paraded around a refugee camp:
I dressed up and walked around the block with the kids, all of us clean. I wanted to say, "I am here. I need you to see me. I need you to see that I am here. Your world cannot make me crumble. I am alive. I am alive.
"I am alive."
for more on Clemantine Wamariya:
"I was reunited with my long lost family on Oprah"
"A moment on Oprah made her a human rights symbol. She wants to be more than that."
Lesley Williams is a 25+ year librarian and a reviewer for Booklist magazine where she specializes in African American, Muslim, and LGBTQ authored literature. As a public librarian she created public programs emphasizing the literature of colonized peoples, leading year long discussion programs on Latin American history, Muslim cultures, and the plays of August Wilson. She currently tutors English reading and writing to first generation students at City Colleges of Chicago.