by Nadine Bailey & Colin Kelman
A question central to growing up is "Am I normal?" and books displaying diverse characters and settings with a range of emotions and experiences so that they mirror as many people as possible are a way of reassuring our young people that there is no one normal and they will find their tribe.
When the winner of the 2022 Neev Book Award Young Adult (YA) category was announced, it was clearly evident from the response of the audience at the Neev Literature Festival last Saturday that this book was also the popular choice of the teens in the audience.
And the winner of the 2022 YA category is: Rain Must Fall
In this first-person graphic novel, illustrated with spare black and white drawings, Rumi, a non-binary 15-year-old, discovers a ghost in their ancestral home by the sea. Across the generations, the struggles both have experienced to express themselves within the family and as artists are gradually revealed. The two realise the importance of being seen – and loved – for who they really are. Teens will be drawn to this paranormal drama about friendship and identity and will root for both souls.
The other two books on the shortlist were just as powerful.
Bandilanka's Forgotten Lives almost immediately suggests R. K. Narayan's famous fictional town in Malgudi Days — the short stories (1943) and the popular TV series (1986-2006) — via the setting of the small town and its typical characters. However, the suggestion only adds to the intensity with which we feel the stories in Bandilanka's Forgotten Lives, which are cautionary and sometimes terrifying in the human misery we witness. These take us on a journey of empathy into the lives of a community bound, almost hopelessly, by caste and class. All are based on true stories. Narayan often layered humour into his stories of the ordinary folk of Malgudi, but in Bandilanka's Forgotten Lives we see deliberate creative choices that bring strong emotions unmixed with satire and amusement.
The shortlisted picture book Wounds is beautifully executed to capture the evolution of a remarkable Indian artist, Somnath Hore, who saw the horrors of the Japanese bombing of Chittagong, the terrible Bengal famine of 1943, and the peasant uprising of Tebhaga. The book shows how Somnath Hore struggled to find expression for the pain he felt for people's suffering throughout his life, and how he did it in a stroke of genius via an abstract series titled 'Wounds' from which the book draws its title. The book is commendable for bringing to Indian children an artist few of them have heard of, and the technique of transferring 'wounds' from a clay matrix to paper, so that people can 'feel' these wounds that, literally, never heal.
---
Other books on the longlist that we'd like to bring to your attention include a few from our favourite authors over the past few years.
This year, historian Devika Rangachari's third book – Queen of Fire – is a re-telling the story of Rani Lakshmi Bai, the fearsome warrior who was one of the revolutionaries against British rule during the 1857 uprising. Rangachari's writing, as always, is based on extensive research of the periods and the protagonists, and is history wrapped in a compulsive read that brings the past alive.
Strong as Fire, Fierce as Flame by Supriya Kelkar, author of Ahimsa, imagines a story of rebel sympathizers taking action in the same 1857 uprising through Meera, a young girl escaping self-immolation.
The YA years are perhaps a time where an overwhelming number of choices need to be made that could have a lifelong impact on the future. Stories can reflect our own lives, or those of others and allow us to develop our empathy, understand seemingly irrational decisions and acknowledge our privilege, such as Mirror Mirror with its themes of body shaming, body image, self acceptance and self-love.
The Midnight Years takes an interesting approach to the drama of the teenage years with a dual narrative – a storyline involving a number of different teenagers engaging in sometimes normal, sometimes risky behaviour, with subsequent analysis of their actions based on developmental and psychological traits of teens by a psychologist. It will certainly be appreciated by parents, teachers and teens themselves.
Books are a window – a way for readers to anticipate and experience the lives of others without the real danger. Our teens like finding out how characters have navigated situations they are in or may soon be in. In Savi and the Memory Keeper, many of the critical issues that trouble our teens are highlighted including global warming, climate change, and deforestation – while the story takes a fantastical bent, it allows readers to imagine a less dystopian future.
What is it like to live in a war zone? Divya Arya weaves the realities of life in Kashimir through the letters of two teen girls in Postbox Kashmir: Two lives in letters — and adds the facts she has garnered as a BBC journalist.
Kashmir! Kashmir! takes a different tack, with vignettes of teenagers living in Kashmir including disruptions to schooling due to unrest and Covid-19.
The pandemic was also a theme for prolific writer Paro Anand, writing nineteen inter-related stories in Unmasked, showing the great diversity in circumstance of Indian lives during that period.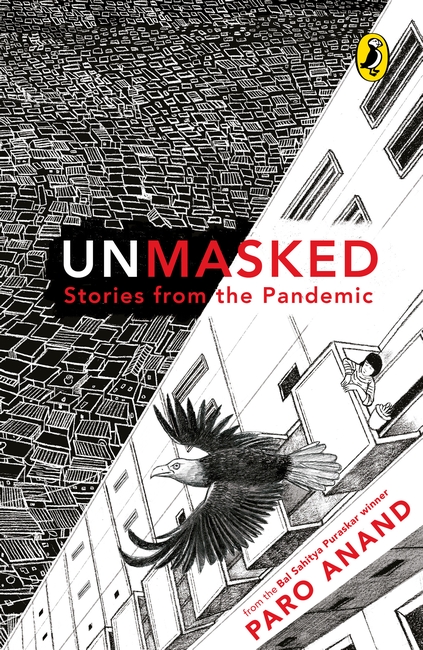 We invite our readers to explore these wonderful books that will add to an understanding of the lives and concerns of Indian children.
---
Nadine Bailey is an experienced teacher-librarian. She has lived and worked in Asia for 16 years, the last eight in the IB environment. She is now the middle school teacher librarian at the American School of Dubai. Nadine is passionate about diversity and enhancing a multi-cultural, multi-lingual environment. She has been on the Neev Book Award jury since its inception. Check out her blog and follow her on Twitter: @intlNadine
Colin Kelman has been a teacher in the middle school, high school, in pre-university programmes and undergraduate programmes where he has taught English language, literature, theory of knowledge, literary criticism and phonetics. His experience beyond that of a DP coordinator includes work as a head of department, IGCSE coordinator and examiner in Theory of Knowledge and English with the IB. His education at various levels includes studying English literature, psychology and linguistics. After earning his post-graduate degree in English, inclusive of linguistics and literature, his work on the editing of prose writings of the English renaissance led to a research degree in English. He has been on the Neev Book Award jury since its inception.
---
---
September is #WorldKidLit month and this year the GLLI blog is exploring different aspects of #IndiaKidLit in the run-up to the 2022 Neev Literature Festival, a celebration of Indian children's literature being held Sept 24 and 25 in Bangalore. At the Festival, the winners of the 2022 Neev Book Award, which aims to promote and encourage high-quality children's literature from India, will be announced in 4 categories: Early Years, Emerging Readers, Junior Readers, and Young Adult.
Karthika Gopalakrishnan is the Head of Reading at Neev Academy, Bangalore, and the Director of the Neev Literature Festival. In the past, she has worked as a children's book writer, editor, and content curator at Multistory Learning which ran a reading program for schools across south India. Prior to this, Karthika was a full-time print journalist with two national dailies. Her Twitter handle is g_karthika.


Katie Day is an international school teacher-librarian and one of the Jury Co-Chairs for the Neev Book Award. An American with a masters in children's literature from the UK and a masters in library science from Australia, she has lived in Asia since 1997, including 15 years in Singapore, first at United World College of Southeast Asia and now at Tanglin Trust School. She has also lived and worked in Thailand, Vietnam, Hong Kong and the UK. Her Twitter handle is librarianedge.
---