Review by Sarah Ducharme
Deka is terrified. She is turning 16 and the Ritual of Purity is looming. She's worried that her community will discover what she has suspected about herself for years: she's different. She might even be "Impure," the label given to any girl whose blood runs gold when her skin is cut during the ceremony. If that happens, she'll be banished from her town and separated from her father and everything she has ever known.
But what if everything she has ever known is a lie?
In this young adult fantasy, we follow Deka's coming-of-age and coming-to-power as she realizes who she really is and what her place in her society can be. Set in landscapes inspired by West Africa, the action involves a cast of characters reflecting the cultural diversity of the region.
This is a fast-moving plot with plenty of thrills. The whole arc of it reads like a survival adventure story with terrifying monsters called Deathshrieks, warriors who can survive decapitation, and a kind of shape-shifting that's hard to imagine. But there's soul to it, too. Deka makes deep friendships with her fellow alaki companion, Britte, who speaks in a clipped accent reminiscent of Old English. Deka experiences a budding romance with someone she distrusts at first but later realizes has been an ally all along. And her relationship with her mentor, a wise and ancient woman she calls "White Hands", weathers twists and turns along the way as she comes to understand who she can trust, what is expected of her, and what she's destined to become.
All in all, it's a great story and I can't wait to read The Merciless Ones, the next in the series.
But there's another layer to this novel that I found equally compelling: the desire to know more about the names of the characters and places, to know more about the inspiration behind the elements of this fantastic world the author created. The cover by Johnny Tarajosu is just the first clue to the depth and beauty of this world.
Like any good librarian, I did a bit of googling around and reached out to the expert herself, author Namina Forna, to learn about the geographical and cultural context that sparked her world-building process.
The Gilded Ones by Namina Forna, map on endpapers
Landscape
The fictional region is Otera – a Japanese word meaning "temple" – a kingdom made up of four provinces – two large islands and a sprinkling of smaller islands to the east. The largest island is cut vertically in half by the N'Oyo mountains (a name perhaps inspired by the Oyo state of ancient Nigeria) and has a large desert, the Nibari Desert, at its southern tip. The second largest island is home to the Northern and Eastern provinces which feature snow-capped mountains and forests. Deka lives in Irfut, in the North and the monstrous deathshrieks are mainly to the south, deterred by the high mountains surrounding her home (or so she thinks).
About her inspirations for the geographical setting, Forna wrote to me:
"While I did not base The Gilded Ones on any single African culture, I was mainly influenced by Sierra Leonean culture, which is my native culture, as well as Nigerian culture, which is partly what I am descended from. In particular, the [fictional] city of Hemaira is a mix of the ancient city of Benin, in what is now Nigeria, and Freetown, Sierra Leone, which is where I'm from."
"The walls of Hemaira are based on the walls of Benin, while the topography of the city—all the mountains and lakes—are based off Freetown."
Her mention of the walls of Benin refers to ancient walls built by the Edo people in what is now southern Nigeria. These walls were longer than the Great Wall of China and served to divide the city into over 500 villages. Perhaps the city name "Hemaira" is inspired by the Arabic word that sounds similar: "Hamaira" meaning "reddish color". The mountains she mentions are probably The Lion Mountains, found on the Freetown peninsula and reaching 2,900 feet (880 meters). There are other higher mountains in Sierra Leone as well: the Loma Range in the Northeast could be the inspiration for the ones in the Northeast Provinces on the map of Otera.
I also discovered that Ms. Forna named some of the islands of Otera after people in her own family! There seem to be never-ending connections to make in exploring the physical setting of this novel.
Culture
Next, let's look at the culture of the Kingdom of Otera. The cultural elements of Deka's world include language, religion, symbolism, social structures, rituals, masks and so much more. It's a good thing there will be two more books because there is still a lot to find out about Oteran culture. For now, I'll touch on a two aspects I investigated on my own with insights from Ms. Forna as well.
Religion
There is a strong connection to religion throughout the book, with Deka often praying to "Oyomo" for strength, compassion, and guidance. Ms. Forna says, "Oyomo is a made up word which borrows from Yoruba words in Nigeria." I also found it as a surname common in Cameroon and less common in Nigeria, according to the name-tracking site Forbears. But when I dug into Yoruba words, I found some of the exact words and concepts that must have sparked the author's creative process, such as "Oyo" a town in the southwestern Nigeria and "Oya" the third wife of the Orisha (a diety) named Shango. In Deka's world, the god Oyomo is represented by a "kuru" , a symbol of the sun. In present-day Nigeria, "Kuru" is the name for a collection of villages in the central region of the county.
Language
Regarding the language spoken in Deka's world, Ms. Forna says, "The language comes from a mix of my tribal language—Temne—as well as Krio, which is West African pidgin English and borrows from not only English, French, Arabic, but a myriad of African words as well." An example of a Krio word in the story is "alaki" (ah-la-key) which is the label given to girls like Deka whose blood runs gold. Ms. Forna says the word "means useless or unwanted, and is probably Arabic in origin." After looking up some common Temne words (Temne sounds like tim-i-nee), I found one that is almost an exact match for a word in the novel. In the story, the warrior girls live and train together in a complex called the Warthu Bera, and in Temne the word for "girl" is "wath bera".

Masks
People in the land of Otera wear masks for different purposes and to show various levels of attainment in society. Deka's family cannot afford new clothes and a new mask for her ceremony, but she learns that her mother, now dead, had planned ahead and crafted these special items for her.
According to Ms. Forna, the "masks are west African culture in general. In Sierra Leone, we have special masks for each occasion, and each mask has a special meaning." Indeed, in The Gilded Ones, there are masks for various purposes. For example, White Hands explains that "the courtiers wear masks to show their submission to the emperor the same way women wear masks so as not to offend the eyes of Oyomo" (268). Another type of mask includes personalized helmets to wear in battle. One revelation Deka discovers is that the voice she uses to communicate with the deathshrieks is less overwhelming to her fellow soldiers when they wear a special gold helmet. After learning about masks in Sierra Leonean history, I think the sowei helmet mask of the Sande women in the Mende ancient culture might be inspiration for the type of helmet the alaki wear in their battles with the deathshrieks.
There's so much to explore within the world of The Gilded Ones. The novel offers readers entertainment and an examination of a patriarchal society possibly undergoing a huge change. It also offers something else: a window into a landscape and culture that may be unfamiliar to some readers and a reflection of the personal heritage of other readers. The Gilded Ones provides a unique opportunity for inquiry and research sparked by fiction. When a story and its characters grab me so much that I want to research to learn more, I know I'm reading a winner.
Delacorte Press, 2020
You can purchase this book here.
*Book purchases made via our affiliate link may earn GLLI a small commission at no cost to you.
References
Namina Forna in the news:
The Gilded Ones is being adapted for the screen by Ms. Forna, release date to be determined
The Merciless Ones, number two in the Deathless series, was released April 5, 2022
Reviews & interviews:
About the author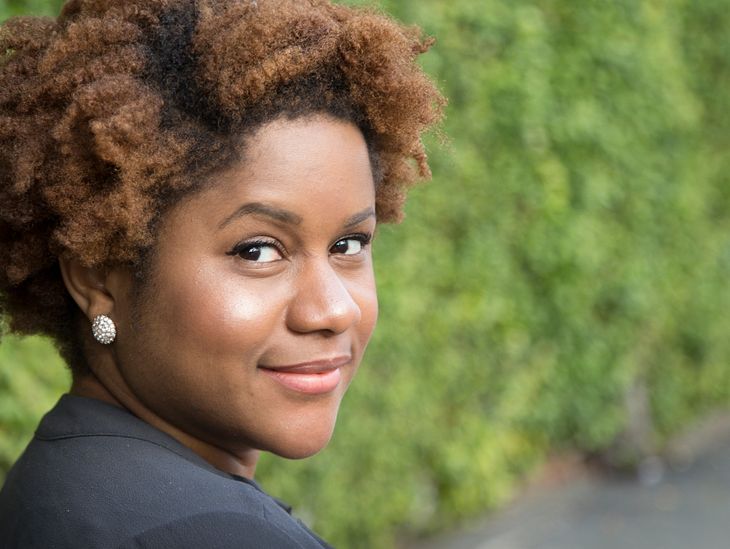 Namina Forna is a young adult novelist based in Los Angeles. Originally from Sierra Leone, West Africa, she moved to the US when she was nine and has been traveling back and forth ever since. Namina loves telling stories with fierce female leads and works as a screenwriter in LA. Follow her on Twitter.
Reviewer: Sarah Ducharme
Sarah Ducharme has been a teacher and librarian at international schools for the past 25 years. Starting as a middle school English teacher in Beirut at ACS, she and her husband then moved to El Salvador, Budapest, Lima, and they now live in Shenzhen, China. Her move from English teacher to librarian resulted in finding her true passion: connecting students and faculty with books and information and making the library a dynamic learning hub on campus. Originally from Concord, Massachusetts, she feels at home on Cape Cod, in Vermont, and with friends and family throughout New England.
Curator of the second #IntlYALitMonth at Global Literature in Libraries Initiative:
Linda Hoiseth is the high school librarian at the American School of Dubai and has previously worked at schools in the US, Japan, Kuwait, Malaysia, Poland, Peru, Qatar, and India. She has a B.S. in English and Secondary Education, an M.S. in Curriculum and Instruction, and a graduate certificate in School Library Media. Linda is an IB workshop leader and a member of the ECIS Libraries Special Interest Group. Her husband Robb is her travel partner, and they both miss their two adult children who live in Minnesota. She's a fierce advocate for all students to have access to all the books. Follow her on Twitter.