Review by: Jason Roach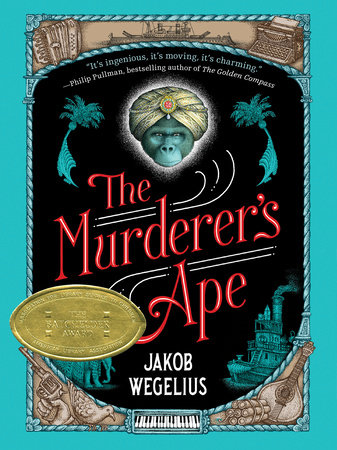 Sally Jones is a steamship engineer, but whether the broken machinery is an accordion, typewriter or airplane, she can put it right. Her bigger challenge over the course of Jakob Wegelius' wonderful The Murderer's Ape is to put right the lives of the humans in her orbit. For Sally, as she quickly relates to readers, is not a human, but a gorilla.
Sally narrates the tale herself, and because she doesn't speak readers are instead treated (through her internal dialog) to keen observations about people and her own feelings as the adventure takes her from Portugal through the Mediterranean and Suez canal to India and many points in between. Sally is a good judge of character!
The various technologies that Sally repairs and rebuilds set the story in the early 20th century, and at the open Sally is happily working aboard the steamship Hudson Queen for her friend (not owner, though she's had those, too, and will have again) Chief Henry Koskela. They're low on funds in Lisbon and looking for work. What looks to be a simple trip up the Tagus goes very wrong and lands the Hudson Queen at the bottom of the river, Koskela unjustly jailed for murder, and Sally alone and without shelter or friends.
Wegelius unfolds the story without hurry, gradually introducing a string of wonderful new characters. Almost all of these, no matter their first impressions of a sad gorilla, are eventually charmed and won over by Sally's relentless loyalty to Koskela and her new friends. Ana Molina goes from factory worker to fado star with Sally's encouragement. Signor Fidardo first has Sally sweeping his music shop but learns to trust her temperament and repair skills. Geoff the mechanic finds her a worthy chess partner, and the Maharaja of Bhapur is first charmed and then delighted at the discovery that Sally can maintain his new two-seater biplane and beat him at chess.
There are villains, too, but Sally endures and outlasts them, all the while keeping up a correspondence with Koskela and pursuing clues that could help clear his name and set him free. Sally is quietly indefatigable and one of my favorite characters in any genre from recent years.

The Murderer's Ape is such a wonderfully old-fashioned adventure and Sally such a sympathetic narrator that the reader doesn't really doubt that things will come good in the end. They do, and they also happily leave an opening for a sequel, The False Rose. The Legend of Sally Jones, a prequel, is forthcoming.
ISBN: 978-1-101-93175-2
Publisher: Penguin Random House LLC
Language: English (2017) – translated from the 2014 Swedish original by Peter Graves
You can purchase this book here.
*Book purchases made via our affiliate link may earn GLLI a small commission at no cost to you.
Awards:
August Prize
Astrid Lindgren Prize
Nordic Council Prize
About the author:
Jakob Wegelius is an award winning Swedish author. Born in Goteburg, he studied literature and philosophy and has been publishing books for young people since 2003. In addition to illustrating his own books he works as a graphic designer. His books have been translated into more than 20 languages. He lives in Stockholm.
About the Translator:
Peter Graves was born in Wales and studied German and Swedish at the University of Aberdeen. He is Honorary Fellow at the University of Edinburgh and has translated many fiction and nonfiction titles from their Swedish original. He is a past winner of the European Philosophical Dialogues Competition and the Swedish Academy Annual Prize for his translations.
About the Reviewer: Jason Roach
Jason is a fifth generation Californian who has spent the last two decades working as a teacher and librarian in Singapore, China, Tunisia and Dubai. He loves maps and 19th century technology and has a soft spot for children's and young adult literature that feels a bit out-of-time. He is grateful that 2022 will have a baseball season after all.
Curator of the second #IntlYALitMonth at Global Literature in Libraries Initiative:
Linda Hoiseth is the high school librarian at the American School of Dubai (where she's lucky enough to work with Jason Roach) and has previously worked at schools in the US, Japan, Kuwait, Malaysia, Poland, Peru, Qatar, and India. She has a B.S. in English and Secondary Education, an M.S. in Curriculum and Instruction, and a graduate certificate in School Library Media. She's currently a member of the ECIS Libraries Special Interest Group committee. She's a fierce advocate for all students to have access to all the books. Follow her on Twitter.