Promote sustained, inclusive and sustainable economic growth, full and productive employment and decent work for all
[Karthika Gopalakrishnan, Neev Academy, Bangalore, India]
This goal trains the focus on sustained growth, individual productivity, and its link to economic progress.

"Decent work" refers to the idea that an individual can work in a safe, secure environment; be one's most productive self; and be paid fairly for it, irrespective of one's gender.
It correlates to "Economic Growth" which requires societies to evolve frameworks that will allow for individuals to engage in "Decent Work".
Below is a reading list of books produced in India that looks to examine the development of decent work and economic growth from an Indian perspective. What are the ways in which this is becoming a reality for communities around the country? What are the gaps?
This list is intended to inspire readers to pause and think about the concepts of Decent Work and Economic Growth; to perhaps reflect on whether there is a role for them to play, by knowing about the lives of individuals and communities who have achieved the UN SDG #8 within their own contexts.

[Note: It may not always be easy for individuals outside India to source a few of these books. If you would like to do so anyway, I would be happy to offer advice on it.]
---
This slim picture book gives us a day-in-the-life narration of an Indian conservancy worker, otherwise known as a sanitation worker, who clears the garbage from people's houses on behalf of the municipality. The narrative gives him verve, a distinctive personality, intelligence, and a sense of humour. It makes visible an individual who is normally passed by in real life, and not given a second thought, on an Indian street. While Anand elevates the image of the conservancy worker, it also prompts readers to think: how far do we have yet to travel in India to truly imbue this profession with safety, dignity, and respect, in real life?
Storyweaver is a digital open-licensed platform from Pratham Books, a non-profit organization committed to promoting reading and access to books for children across the country. Storyweaver allows users to read, create, translate, and download stories into different languages for free.
For a list of more books on Storyweaver that link to this SDG #8, Decent Work and Economic Growth, do take a look here.
---
Bhuri Bai Bhil, a woman hailing from the Bhil tribal community, finds her voice through her art. She started her life working in the fields, and moved on to becoming a daily wage labourer, before she was given the opportunity to paint for a living.
While women were not traditionally permitted to create paintings of Pithora art—the visual style adopted by the Bhil community that involves creating an image using dots—Bhuri Bai turned this idea on its head, by being the first woman from their community to paint on paper and canvas. "Soon, I no longer had to carry stones for a living. I was paid to paint," the book states.
Dotted Lines also gives us glimpses of the Bhil lifestyle, and the community's relationship with art. The dominant theme in their work is that of human beings' coexistence with nature; an idea that the Bhils view as sacred.
---
Inspired by real-life events, this is a story of communal self-reliance. After a poor harvest during a particular year, coupled with the elevated costs of purchasing seeds along with pesticides and chemicals, a group of cotton farmers decides to try something radical.
They come together to create a seed bank: a repository of seeds that is best suited for the local soil and weather. They use this to pave their way to economic growth, a sum total of their collaborative effort and agency.
While the writing by Bijal Vachharajani breaks down a complex idea into a universal, easily understandable format, the illustrations by Jayesh Sivan bring alive the region where the story is set: from the colours and patterns of the fabric that the farmers don, to the muted shades that capture the essence of the landscape.
This is another title in the Pratham Books' Storyweaver collection — which you can read here.
---
Growing up poor in a small town in Tamil Nadu, all that Dr Sarvepalli Radhakrishnan would take for lunch was a bag of peanuts. This, too, was once stolen, as it was a time in the country's history when there was not enough food to go around.
Dr S Radhakrishnan went on to become the first Vice-President and second President of the Republic of India. Delhi Thaatha (which translates to "Delhi Grandfather") is written by his great-granddaughter, who narrates the story from the perspective of her seven-year-old self. Her observations of this very public political figure are deeply personal and affectionate. The visuals, which are a mix of photographs from Dr Radhakrishnan's life, along with art and graphic design elements, imbue the text with a light and dream-like quality.
While this book gives us glimpses into one man's life, the underlying layer that it sheds light on, is also that of India's journey; of a country coming into one's own, achieving political, social, and economic growth, along the way.
---
With no formal training, Sonabai Rajawar began her journey with art using materials around her house to create toys from sticky clay-like mud for her baby son. While she did this in an attempt to keep her child entertained, little did Sonabai know that she would go on to create sculptures that would tell stories from her life, carving out an aesthetic known as Surguji today (from the district Surguja).
Sonabai painted her creations with natural dyes that she made from the ingredients around her: sticks, seeds, spices, leaves, vegetables, and soot from her kitchen. She went on to accentuate the walls and windows of her house with her art.
Sonabai's fame grew, as her work made its presence felt with her richly decorated house, through her village, province, and eventually, the whole country. Her son learnt the art form from her when he grew up, as did other artists from villages surrounding her own. She travelled, and earned a living with her art, until her health allowed it. Her work went on to be exhibited in countries abroad as well.

This newspaper article provides more context about Sonabai's life.
---
This delicately produced book tells a tale of aspiration. On the surface, it details the musings of a young, woman artist from a staunchly patriarchal community, who gets the opportunity to travel for work, to a city at another end of the country. During the journey, she reflects on the lives of girls around India, disenfranchised by a combination of economic and social factors; a story she knows altogether too well. In order to tell this story, Amrita Das dips into the generations-old visual vocabulary of the Mithila tradition of folk art that she is adept with, and uses it to craft a narrative of women's lives which is astonishingly beautiful and startlingly contemporary.
---
Mati, the protagonist of this book, is given a small patch of land to tend to. Her patch is a part of a larger plot that Mati's grandmother inherits from her parents. The matriarch has had to fight for her right to plough it when the village heads tried to claim the land for their own after her parents passed away.
In the book, Mati spends a lot of time on her plot as farming is all that her family knows. However, a threat looms on the horizon from a powerful mining company demanding to buy their property. Mati's family does not consider this a sustainable way for them to grow their wealth, and prefers to own their land. Along with a group of other villagers, they decide to fight for their land.
I Will Save My Land won the 2018 Neev Book Award for Best Picture Book. Through Mati's story, the book captures the wave of resistance and the swell of identity that villagers in the mineral-rich regions of the country experience in the face of similar adversity.
---
This amazing visual diary is the result of a trip that Bhajju Shyam, an artist from the Gond tribe in India, made to the capital of the UK. He was commissioned, at the time, to paint the walls of an Indian restaurant in his trademark style — as art is his way of "working for the stomach," as he puts it.
Within the Gond community, it is considered rare for an individual to travel outside one's village and visit another part of India. Bhajju's trip abroad—and to the UK, at that—was a first for his entire community!
The product that emerges is a view of London that has never been seen before: from an outsider, unburdened by any preconceptions of the city that the popular media may be responsible for, combined with imagery that is filled with motifs from the Gond world. The art is lush and striking, while the commentary that accompanies each piece is thoughtful, and expresses all the wonder and bewilderment that Bhajju experienced on his trip.
---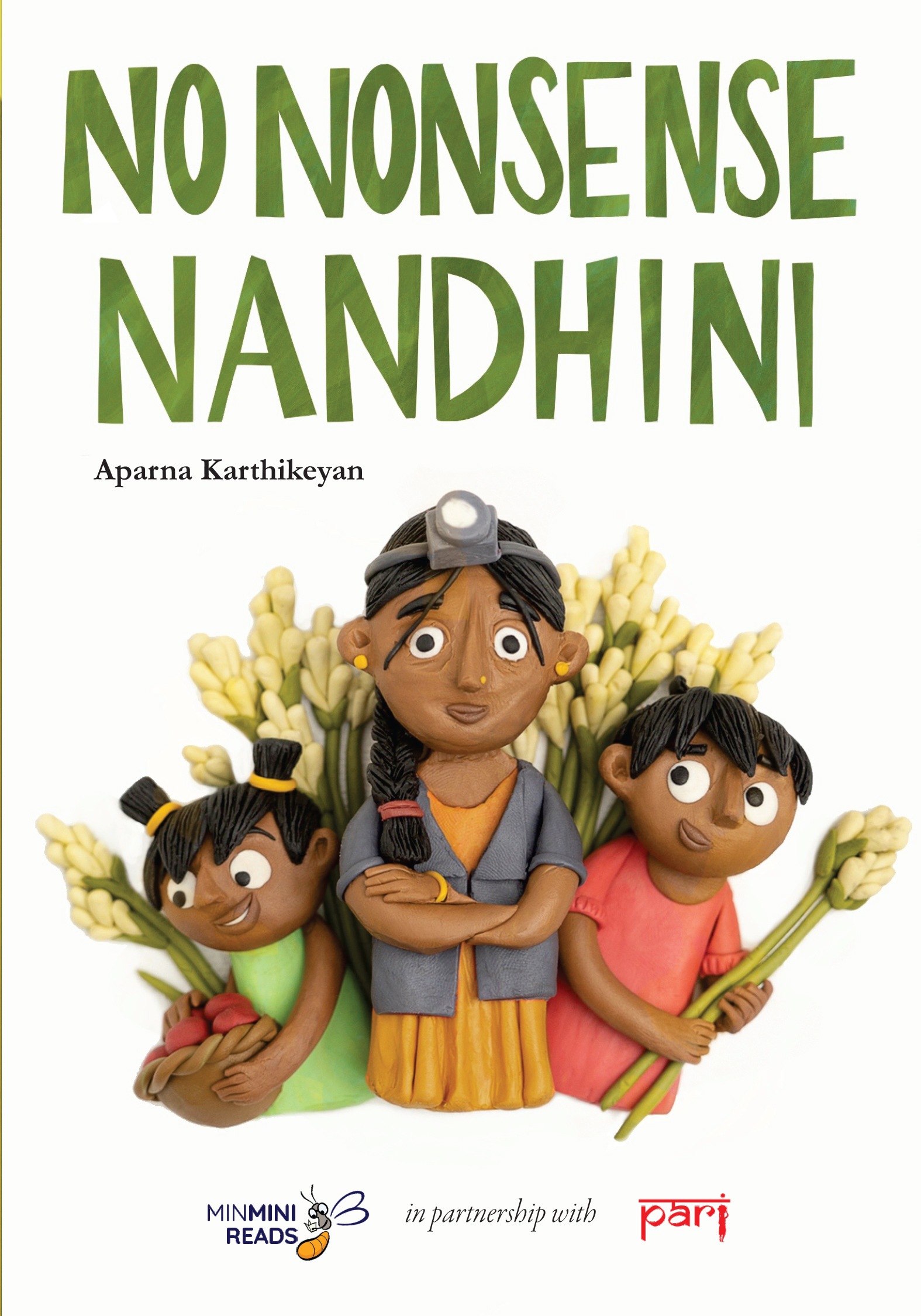 This chapter book is a fictional adaptation of a journalistic piece based on the life of a woman farmer named Chandra Subramanian, from Sivagangai district in Tamil Nadu, India. Like Chandra, the protagonist Nandhini overcomes financial and social barriers to have the right to farm her own land, and to grow what she pleases on it. Nandhini is a single mother who needs to balance earning a livelihood, educating her children, and giving them a safe home. No Nonsense Nandhini portrays how a spunky young girl from a small village can fight for and live out her dream, paving the path for others who wish to follow in her footsteps.
The writing and choice of vocabulary bring alive the sentiment and attitudes that prevail in rural Tamil Nadu.
This book is a part of the publisher Karadi Tales' Minmini Reads series, which, in partnership with the People's Archive of Rural India (PARI), aims to bring "inspiring stories from India's diverse villages to young readers everywhere," according to a note on the collaboration printed in the book.
Another book from the same series that speaks to SDG #8, is Coming Home (2020) by Priti David, which delves into the opportunities that are created when a school is set up for tribal children in a rural district. Read more about it here.
---
Built on extensive interviews with individuals, who are each doing their bit to save the planet in one's own way, this book is a tribute to the environmental crusaders in India today.
Those profiled here include Romulus Whitaker, whose life is devoted to the conservation of reptiles; Parineeta Dandekar, who researches, writes about water bodies, and engages in dialogue between policymakers, scientists, ecologists, and the people; Rohan Arthur, who deep dives, literally and figuratively, into the effects of climate change on coral reefs; Vidya Athreya, who researches human-animal conflict through studying leopard ecology; and Aparajita Datta, whose work revolves around the study and conservation of hornbills, as well as working with indigenous communities towards this, in Arunachal Pradesh, a state in north-east India.
There are other champions who report on, make cartoons about, work with farmers, and make music, in their bid to save the environment. Read the book to find out more!
---
This collection shines the spotlight on a community that remains on the margins of the popular imagination: Indian women scientists. Based on the travels and interviews by the authors who run www.thelifeofscience.com, this book presents a portrait of diversity. The range of scientists profiled here include Computational Biologist Lipi Thukral, Molecular Ecologist Uma Ramakrishnan, and Fluid Dynamicist Rama Govindarajan.
Each profile charts a scientist's journey: from where her passions began; the points that her work is situated in at present; and the potential that their work holds for the future.
Every scientist profiled here is contributing to the country's economic growth in her own way. The text is brought alive by Upasana Agarwal's striking illustrations which depict each scientist set against the background of their passions.
There's a particularly striking visual of archeologist Sharada Srinivasan, who is seen striking a Bharatanatyam dance pose, with archeological implements in the background, holding an Aranmula Kannadi (a mirror from Aranmula): a traditionally religious object which she has studied for its archaeometallurgical properties!
---
Book List
---
Karthika Gopalakrishnan is the Head of Reading at Neev Academy. Previously, she has worked with schools across south India to help students develop a love for reading in her position as a project manager with Multistory Learning. Karthika has curated book lists, created content to use in the classroom, conducted storytelling, and teacher training sessions. Karthika has also written and edited children's books for Ms Moochie Books, Pratham Books' Storyweaver, and Pattam, an imprint that publishes high-quality children's books in Tamil. Prior to this, she worked as a journalist with The Times of India and The New Indian Express in Chennai. (Twitter: g_karthika)
---
Note: all the books highlighted during this month of SDGs can be found on this GLLI Goodreads shelf.
What are your favorite books for SDG Goal 8: Decent Work & Economic Growth? Please share them in the comments. Let's make this a conversation and work on the goal together.