Review by Mathangi Subramaniam
Ananya's seventeenth birthday couldn't have gone any worse. Not only do her two best friends start dating – rendering Ananya the "kabab ki haddi," or third wheel, in their friendship – but also, Ananya's mother announces that, at the age of 43, she is unexpectedly pregnant. Worst of all, Ananya's mother has asked her friend, Aunty V, to come stay with the family to support them. Aunty V's son, Raghu, was one of Ananya's best friends until five years ago, when he witnessed Ananya's neighbor, Esha, fat-shaming Ananya. Instead of coming to Ananya's defense, Raghu starting dating Esha, shattering their friendship and Ananya's heart. The incident with Esha spurred Ananya's now constant struggle with her weight, something that she's sure Raghu's presence will only worsen. As the world she's always known shifts seismically, Ananya must learn to trust herself and her body – and, in the process, to forgive the wrongs that started her disordered eating in the first place.
Ananya is a lovable, authentic, and relatable protagonist whose body issues are applicable to readers of all ages. Notably, her romance is tangential to her personal trajectory: falling in love doesn't cure her body issues. In contrast, she's able to fall in love because of the work she does confronting herself, which is a refreshingly empowering angle rarely seen in teen romance. The book is deeply rooted in the city of Bangalore – mentioning food and locations that any Bangalorean will recognize – and revolves around a loving and understanding family that, despite misunderstandings, is always there for each other. An empowering, feminist page turner of a teen romance that tackles coming-of-age issues with astounding authenticity and incredible heart.
ISBN: 9780143451945
Publisher: Duckbill Books
Language: English
You can purchase this book here.
*Book purchases made via our affiliate link may earn GLLI a small commission at no cost to you.
Awards
"It Waits" shortlisted for the MAMI Word to Screen Award 2017
About the Author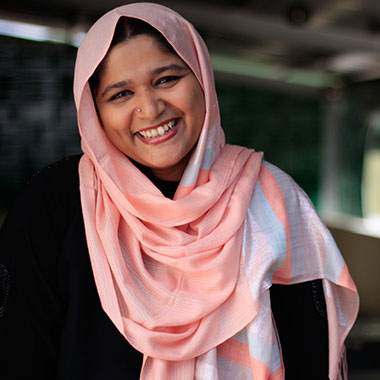 Andaleeb Wajid is a Bangalore-based author who has written over 30 novels across multiple genres. Her book "When She Went Away" was shortlisted for the Hindu / Goodbooks Award in 2017, and her horror novel "It Waits" was shortlisted for the MAMI Word to Screen Award in 2017. She has been writing since the age of ten. Follow her on Twitter.
Andaleeb Wajid
Reviewer: Mathangi Subramaniam
Mathangi Subramaniam
Mathangi Subramanian is an Indian American writer and educator who holds a doctorate in education from Columbia University Teachers College. Her novel A People's History of Heaven was longlisted for the PEN/Faulkner and the Tata Prizes and was a finalist for the Lambda Literary Awards. Her middle grade book, Dear Mrs. Naidu, won the South Asia Book Award. She currently lives in Denver, Colorado with her husband, her daughter, and way too many picture books. Follow her on Twitter.
Reviewer Titles:
You can purchase these books at the links above.
*Book purchases made via our affiliate link may earn GLLI a small commission at no cost to you.
Curator of the second #IntlYALitMonth at Global Literature in Libraries Initiative:
Linda Hoiseth is the high school librarian at the American School of Dubai and has previously worked at schools in the US, Japan, Kuwait, Malaysia, Poland, Peru, Qatar, and India (where Mathangi Subramanian did a fantastic virtual author visit). She has a B.S. in English and Secondary Education, an M.S. in Curriculum and Instruction, and a graduate certificate in School Library Media. She's currently a member of the ECIS Libraries Special Interest Group committee. She's a fierce advocate for all students to have access to all the books. Follow her on Twitter.